MEET THE DIRECTOR
AJ GANIM
I was born and raised in Broadview Heights, and now my family and I live in Brecksville. My wife, Lauren, and I have 2 children, Maron & Paul.  And of course my pug Emmett!  I am cursed with the love of everything Cleveland, well the sports are a curse, but I do really love the food.
As the son of gym owners, I grew up in the gym….literally.  Got off the school bus, at the gym.  Didn't have homework, I'd call it "gym" work.  I was a competitive gymnast for 10 years, reaching "Class 1", or better know today as "Level 10".  When I was 12 years old, I placed 3rd in the nation, at the AAU National Tumbling Championships. I started as a Junior Coach at 14 years old, by 16 I was a lead instructor on tumbling classes.  I started coaching Competitive Cheer at age 18, while cheering at The Ohio State University. At the age of 23, I started Cheer World.  In 2007, forged a partnership with the Cleveland Cavaliers.  In 2010, I started the Dunk Team for the Cavs, the "C-Town ThrowDowns".  Oh, and to include a fun fact, I was a "Bay Watch Lifeguard" back in the day, in the Sea World Ski Show.
My certifications include: CPR / First Aid, Safesport, USASF Credentialed – All Levels, ODJFS Employee Medical & JFS 01176 & JFS01175
At the end of the day, I really love coaching kids how to be good people, and hope they can learn some cool flips along the way.  The amount of awareness that tumbling requires, can capture a kids attention better than most things.  Couple that with the happiness and joy they experience when conquering a new skill, and it's one of the most rewarding jobs I've do.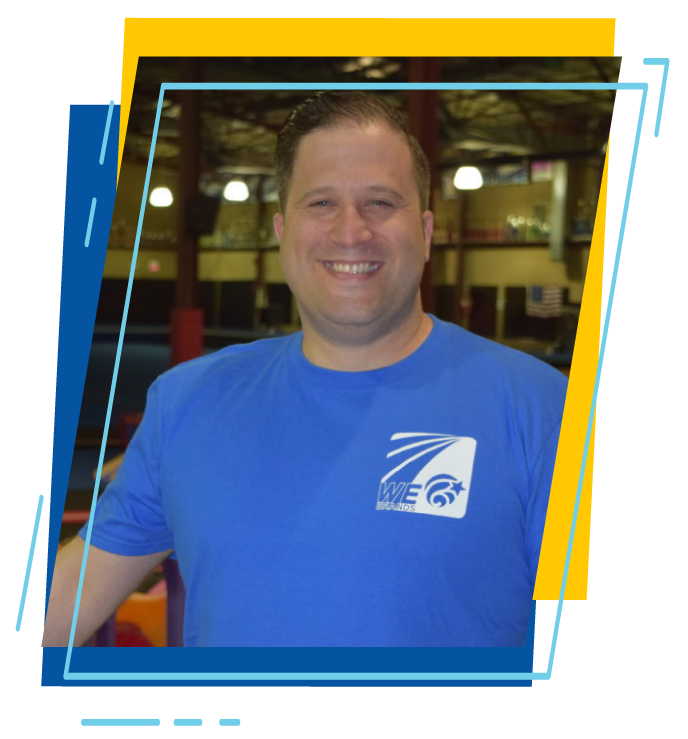 HAVE QUESTIONS ABOUT OUR TUMBLING CLASSES?
A World Elite Kids customer experience rep will be in touch with you within 24 hours.